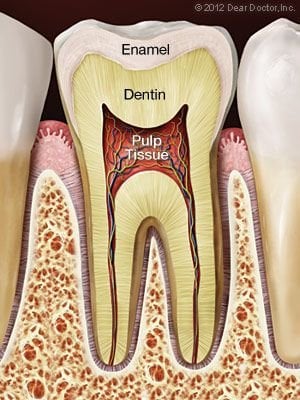 Root Canals in Pleasant Hill, CA
Going to the dentist is known for causing anxiety, especially if you need a lengthy oral surgical procedure. Because she wants people to feel comfortable during treatments, Mailene Soyster, DDS specializes in providing modern sedation dentistry. When you receive treatments at Gregory Ln. Family & Implant Dental Practice in Pleasant Hill, California, you won't have to worry about pain or discomfort. If you have anxiety about the dentist or are worried about pain, book an appointment to see if sedation dentistry is right for you. Schedule your evaluation by calling the clinic, or by booking online.
---
What is endodontics?

Endodontics is a specialty of dentistry that involves the tissues and structures inside your teeth. Most people associate endodontics with root canals, which involve removing bacterial infection and pulp from deep inside your tooth's root.
While root canals are one of the most well-known and commonly performed endodontic treatments, your endodontic specialist offers several other treatments.
For instance, Dr. Soyster can help you if you've been through dental trauma, such as if you had a tooth knocked out. She even performs microsurgery procedures on the tips of your roots if you experience unexplained and unrelenting tooth pain.
Why do I need a root canal?
People often ask if they can have the tooth pulled for fear that a root canal is going to be painful or uncomfortable. An extraction is only advisable if the tooth is severely damaged, or if it needs to come out because of crowding (as with wisdom teeth).
The benefit of a root canal is that it removes only the inner infected parts of your tooth. Because the tooth itself stays intact, you don't risk losing bone or gum tissue, which can happen with an extraction.
This also means that surrounding teeth won't shift, so your bite won't change and your smile won't become crooked. Dr. Soyster often uses a 3-D CT scan to decide whether a root canal is the best option for your condition.
Are root canals painful?
No matter which type of endodontic treatment you need, rest assured: Dr. Soyster does everything she can to ensure your procedure is as comfortable as possible. Because she specializes in the latest advanced techniques and uses only state-of-the-art tools, root canals and other endodontic procedures are much quicker and less invasive than they were years ago.
By offering modern sedation dentistry options, including nitrous oxide — laughing gas — and oral sedation, many patients tend to fall asleep. But the entire procedure itself is no more painful or uncomfortable than getting a cavity filled.
If you need a root canal or other type of endodontic treatment, book an appointment at Gregory Ln. Family & Implant Dental Practice by calling our Pleasant Hill, CA office at (925) 689-1020, or by using the online scheduler.