Crowns and bridges are the ideal way to restore broken, damaged, or missing teeth so that you can maintain your normal bite and healthy smile. With her extensive background in restorative treatments, Mailene Soyster, DDS can place a crown or bridge that blends in seamlessly with the rest of your teeth. If you need a crown or bridge, schedule an evaluation at Gregory Ln. Family & Implant Dental Practice in Pleasant Hill, California by calling the clinic, or by using the online scheduler.
---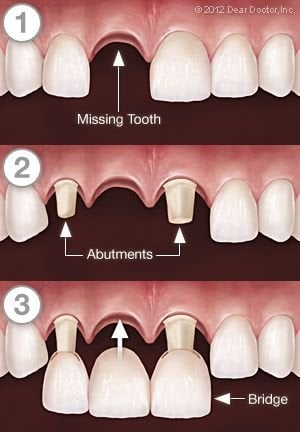 Crowns & Bridges Q & A
Why do I need a bridge?
As the name implies, a bridge fills in a gap or space where you're missing a tooth. A bridge can replace a missing tooth if a dental implant isn't for you. For instance, if you don't have enough bone or gum tissue to support a dental implant, a bridge is the next best option.
With a bridge, your dentist preps the teeth on either side so that they're the ideal "anchors" for the bridge. These teeth serve as abutments for your new bridge. The crowns cover the abutment teeth on either side of the bridge, which has a replacement tooth, referred to as a pontic, to take the place of your missing tooth.
What is the purpose of a dental crown?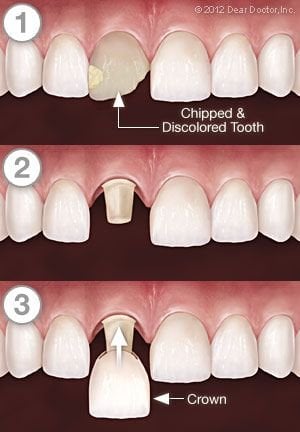 Dental crowns act as caps or covers for your teeth. You might need a dental crown to restore a broken or cracked tooth. A crown also covers a dental implant root or an opening after having a root canal.
Crowns are even part of bridges and help anchor the pontic tooth into place. Dr. Soyster offers same-day crowns and one-day service, so you can go through a thorough exam and get your permanent crown without needing multiple appointments.
How long do bridges and crowns last?
Crowns and bridges are made of durable ceramic or porcelain materials. In short, they're built to last. With optimal oral hygiene habits at home and regular dental exams and cleanings, your bridge or crown can last 5-10 years or more.
Even though crowns and bridges don't decay, underlying teeth can. If the abutment tooth for your bridge or the underlying tooth for your crown starts to decay because of plaque and tartar buildup, your crown or bridge can fall off.
In some cases, Dr. Soyster can re-bond the crown or bridge. If your natural tooth becomes too decayed, though, you might need to have a new crown or bridge designed.
Book your crown or bridge evaluation at Gregory Ln. Family & Implant Dental Practice by calling the office, or by scheduling online.